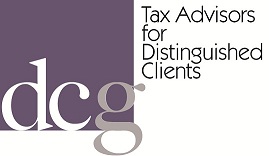 TAX ASSOCIATE
1-3 years' public accounting experience required.
DCG is a Colorado-based certified public accounting firm providing income tax compliance and income tax advisory services to a broad range of clients. We possess an innate spirit of entrepreneurialism, a commitment to confidentiality and the perseverance to see each and every one of our clients succeed and the cornerstone of our success is revealed by our enduring client relationships.
We are currently seeking a self-motivated and talented professional for a unique and exciting opportunity. As a Tax Associate at DCG, you will be involved with income tax compliance and planning as well as developing a relationship with our clients and you'll be exposed to a variety of entities and tax topics that will develop your knowledge base of income tax provisions.
Duties & Responsibilities:
Prepare business and fiduciary income tax returns from client-provided financial statements and individual income tax returns for high-net worth individuals with sophisticated income tax situations
Contribute to team objectives by providing timely and high-quality services that exceed client expectations, while maintaining a positive and cooperative attitude
Build, maintain and enhance client relationships and demonstrate knowledge of each client's business
Proactively develop technical expertise through continuing education, in-house training, experience of supervisors, self-guided research and by staying current with changes to income tax law
Maintain the confidential and proprietary nature of client information and firm procedures
Required Skills & Experience:
Bachelor's degree in Accounting (Master of Taxation or coursework towards preferred)
1-3 years' experience in public accounting, primarily income tax compliance
Intermediate to advanced accounting skills
Experience with Fiduciary income tax return preparation preferred
Proficient in QuickBooks, Microsoft Office (Excel, Word & Outlook) and Adobe Acrobat
Experience with CCH-based software applications including ProSystem fx Engagement, ProSystem fx Tax and ProSystem fx Fixed Assets
Experience in a paperless environment
Strong communication, time management, analytical, organizational, listening and prioritization skills with attention to detail
Ability to propose and record necessary journal entries, effectively work with all team members and work well under pressure to meet deadlines
Our workflow management process enables us to allow our team members to work less demanding hours during high volume tax times. We strive to provide a work environment that provides a work-life balance for every member of our team and are proud to offer a competitive salary and benefit packages, hands-on training and various continuing education opportunities.
If you are the tax professional that would be an asset to our firm and are looking to grow your career, please send your resume to information@dcgcpas.com.
DCG is an Equal Opportunity Employer.